Whenever you visit a website you might have seen a pop-up asking for your consent to accept all the cookies from that website. Now it is quite frustrating to accept the cookies every time you visit a new website. Some websites are also designed in such a way that unless you accept the cookies, they won't let you view the website. So, if you're also tired of cookie pop-ups then SurfsharkVPN has a solution for you as they introduced the first-ever cookie pop-up blocker in a VPN.
What is a Cookie pop-up?
A cookie pop-up is a cookie consent banner that users see when entering websites that need to comply with the transparency requirements of GDPR( General Data Protection Directive). They usually request that users provide consent for websites to collect browsing information. These pop-ups are quite annoying, and they won't disappear from the screen unless you accept them.
What is The Cookie Pop-Up Blocker?
A cookie pop-up blocker is a feature that removes all cookie consent pop-ups from the websites you visit. Surfshark introduced this new feature called cookie pop-up blocker to its browser extension which helps the users to access the website without the cookie pop-up annoying them every time. It's not a privacy feature, or it doesn't prevent the cookie consent pop-ups from happening but it makes sure that the cookie pop-ups don't bother you
How does This Cookie Pop-Up Blocker Work?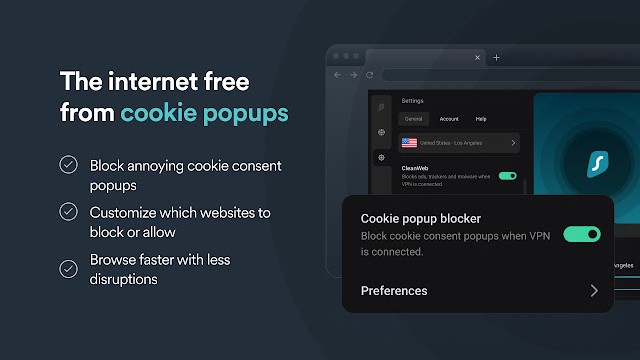 It works by employing javascript, CSS rules, and network request blocking to block the cookie pop-ups. However, if these methods fail then this tool will automatically accept the cookies for you. Some websites on the internet automatically accept the cookies by default while some websites will continuously show you cookie consent banners unless you accept them, otherwise, they won't let you into the website. The main goal of this cookie pop-up blocker is to make sure that the cookie pop-ups won't disturb you every time and make your browsing experience peaceful.
How to Get The Cookie Pop-Up Blocker?
You can get the cookie pop-up blocker now too by following these below steps:
You have to first get the Surfshark VPN. If you're not sure about this VPN then you can read our review about the Surfshark VPN here.
Then after installing the Surfshark VPN get the VPN extension for your browser.(Only available for Chrome at this moment)
Then go to the VPN extension settings and switch on the cookie pop-up blocker.